Good news for the Gujarati: You can now ride Bindas in the city without a helmet.
Gandhinagar: After imposing new traffic rules across the country including Gujarat, the fine was increased drastically. Heavy protests were witnessed throughout Gujarat over traffic rules. Then the Romanian government has made an important decision in providing relief to the Gujarati people. It is no longer necessary to wear a helmet in CT.
Announcing the announcement, Agriculture Minister RC Faldu said that it is no longer necessary to wear helmets in the municipalities and municipalities of the state. The decision was taken at a cabinet meeting of the Romanian government.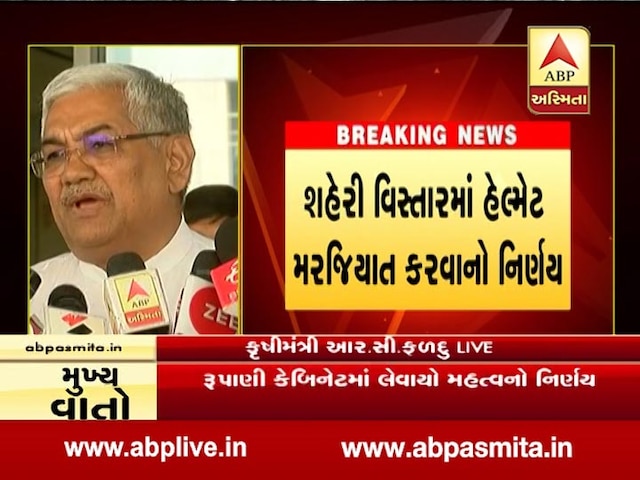 According to the new traffic rules in Gujarat, a fine of Rs 500 was imposed on not wearing a helmet. This led to the outbreak of the Gujaratis and was opposed to it. Today, the Romanian government has made a big decision and has exempted them from wearing helmets in municipalities and municipalities.
It is noteworthy that the Gujarat government has made concessions in the rules against the central government once again. Earlier, the government had also relaxed the traffic fines, which today exempted the wearing of helmets in urban areas.
An important decision for the people of the state has come at a cabinet meeting held at the Gandhinagar Swarnim complex. From now on the area and boundaries of the municipality and the municipality have been compelled while riding a bike (two wheeler).
* Cabinet meeting decision, helmet application in urban areas
* Helmet compulsory on State and National Highways and Approach Roads
Talking to the media after the Cabinet meeting was completed, the state transport minister said that from now on, the extent of the municipality and the municipality area and the bike wearing a helmet on the road will not be compulsory and the police will not impose any penalties in this regard. Also, it is mandatory to wear a helmet on the approach road of all highways and villages except those two areas.
What did the Minister for Transport say?
By far the biggest penalty has been to the Ahmedabad operator, the amount so that a new car arrives.
Talking to the media, Transport Minister Faldu said that the state government had received several requirements about the mandatory helmet law. The cabinet meeting has taken an important decision in view of the social inconveniences caused by the decision and the decision to wear a helmet.